Despite what some parents may think gap years do not leave a giant gap in young people's lives.
Far from leaving a hole of wasted time, potential and opportunity, gap years often fill in the gaps young people need to be smooth, well-rounded adults. While pulling beers in London, mustering cattle in the outback or building a well in Africa isn't absolutely essential for every high school graduate's later success, does it make them any worse off?
According to Year13's YouthSense research surveying over 2000 young Australians aged 15 to 20 the answer is no. 54% said they thought taking a gap year after school would or had positively affected their future performance in education or training. Just 11% saw them negatively while 34% thought they had no effect either way.
Despite this 26% said their parents had a negative view of gap years while just 20% said their parents saw them positively. Evidently with some parents there is still a stigma attached to gap years.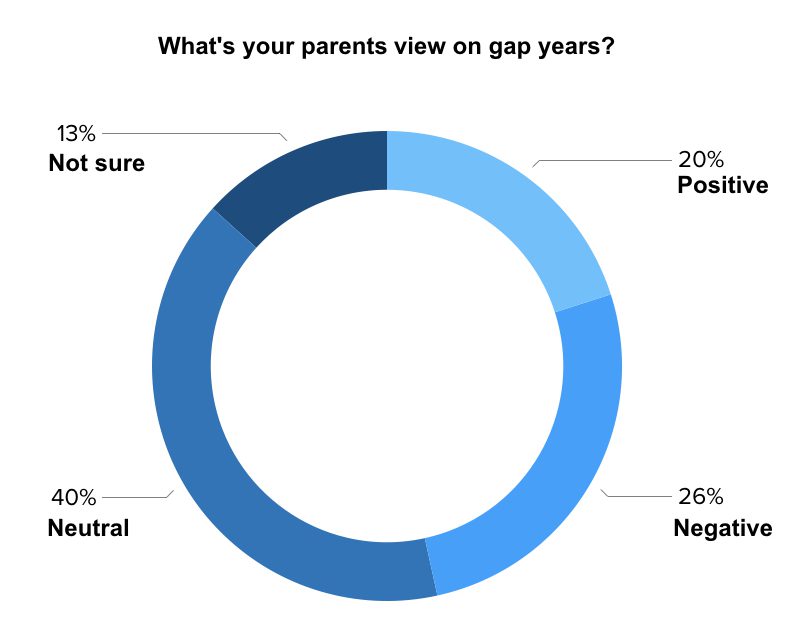 But what if we were to say that a gap year could make their child work even harder during their final year of school? In the whole discussion around gap years one of the positives not often touched on is focus and reward.
A 17-year-old from South Australia told us in our survey that having a gap year on the horizon had pushed her to work hard revealing to herself just how capable she is.
"I also worked 20 hours per week for two years to save money for my gap year while pursuing my acting dreams," she said.
"Listing my accomplishments makes me realise that I have nothing to worry about, and that I can make anything happen if I try hard enough."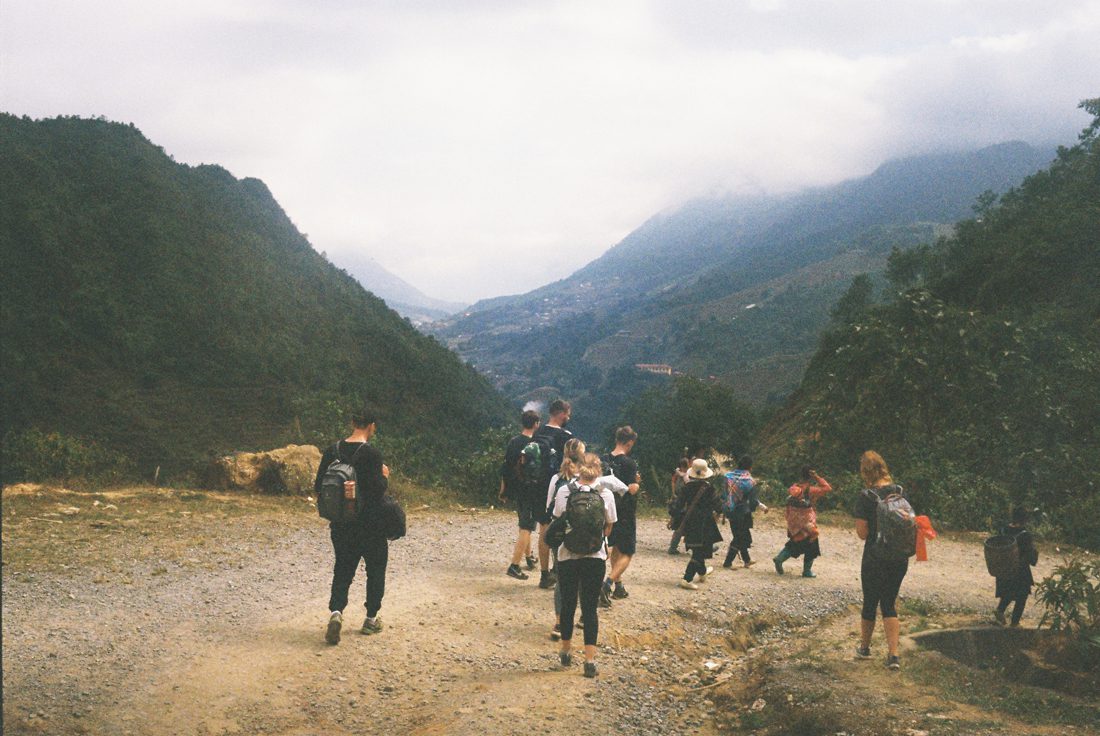 Similarly a 17-year-old from the ACT told us how her upcoming gap year had kept her driven in the classroom.
"School work generally I need to keep myself motivated. I usually do this by thinking about my gap year next year and how wonderful it will be," she said.
For those keen on gap years we asked them what they most wanted to do or did on one, with traveling overseas the most popular option. Looking at what the purpose of gap years is, most thought it was to take a break after high school and recharge and figure out what they do while seeing the world along the way.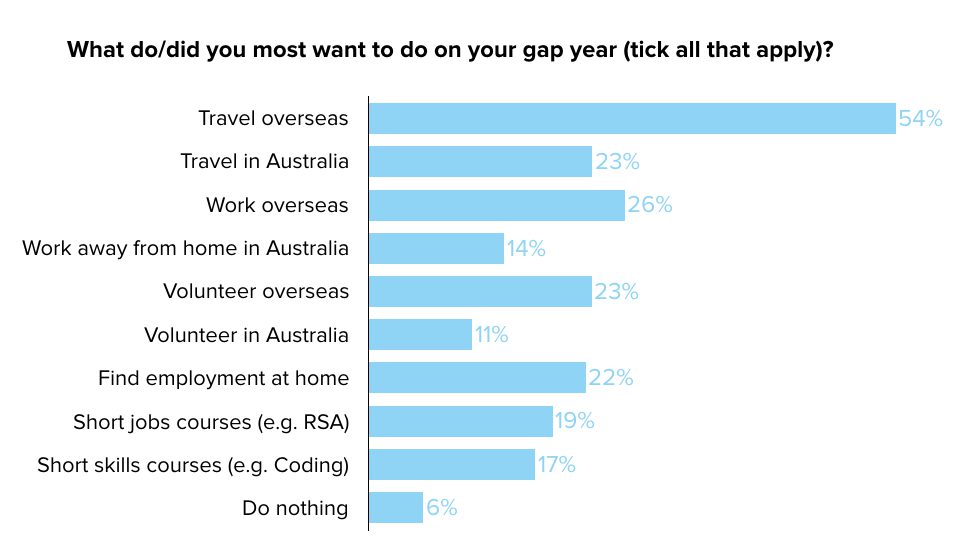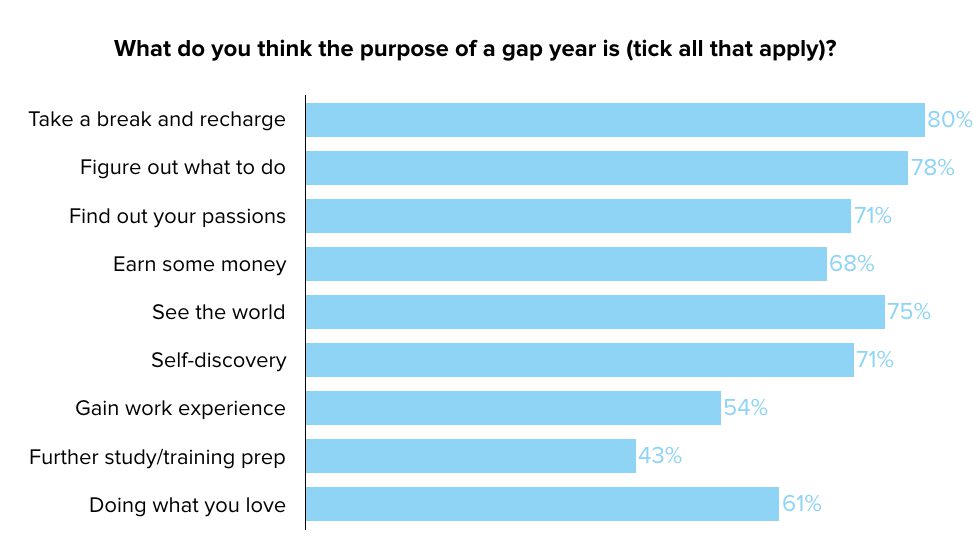 A 17-year-old from South Australia said she never found out what she was passionate about in school.
"So during my gap year this year I'm dealing with that and doing my best to work towards doing things that make me happy and feel like I'm doing something important," she said.
"Even if it's just part time work or volunteering, that's how I cope with the stress of an unknown future I don't feel prepared for after school."
A 20-year-old from Queensland said she was trying to figure out what she'd do after her gap year.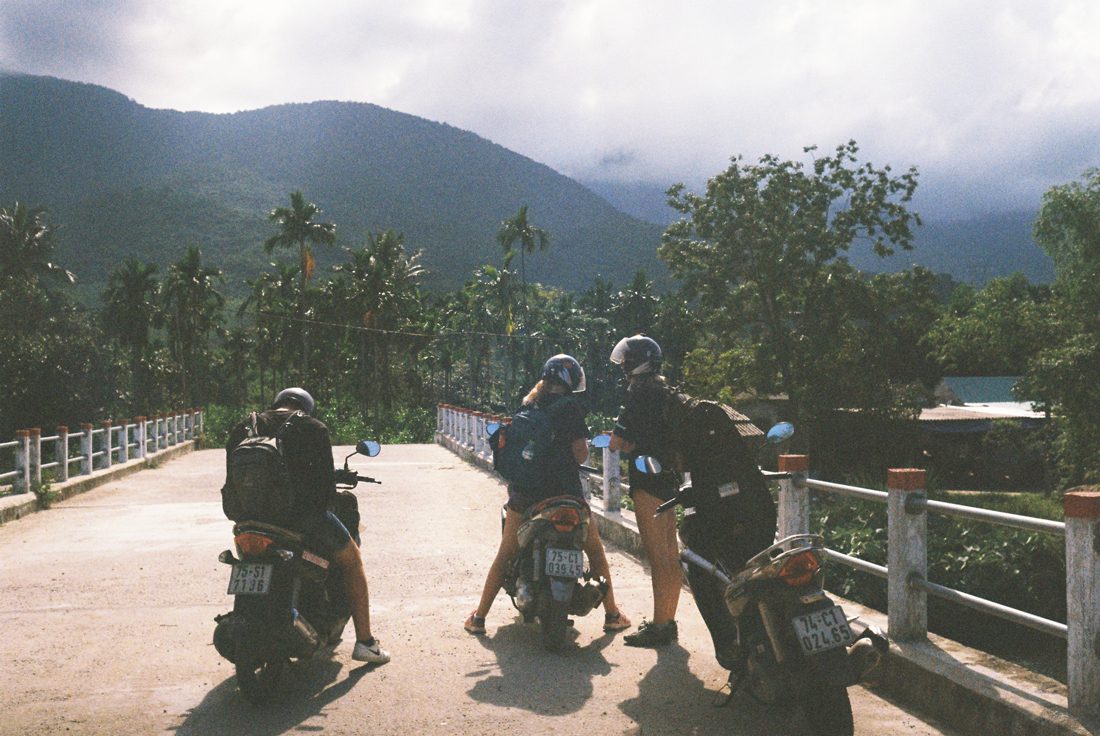 "I'm going over to the UK to find myself, my passions and to figure out a career path," she said.
"I think that's how I'm dealing with the stress, running away and having my fingers crossed something works out for me and I find what I want to do with my life."
---
Checkout more of our stories:
Grab a free copy of our Gen Z reports for marketers and universities.
---
\On the other hand we asked students why they wouldn't or did not take a gap year, with 61% saying they wanted to keep studying straight away, 45% for financial reasons, 25% didn't want to lose their place at uni or in training, 22% wanted to get a job straight away, 17% said their parents stopped them, 8% because they got a scholarship and 2% because they didn't know it was an option.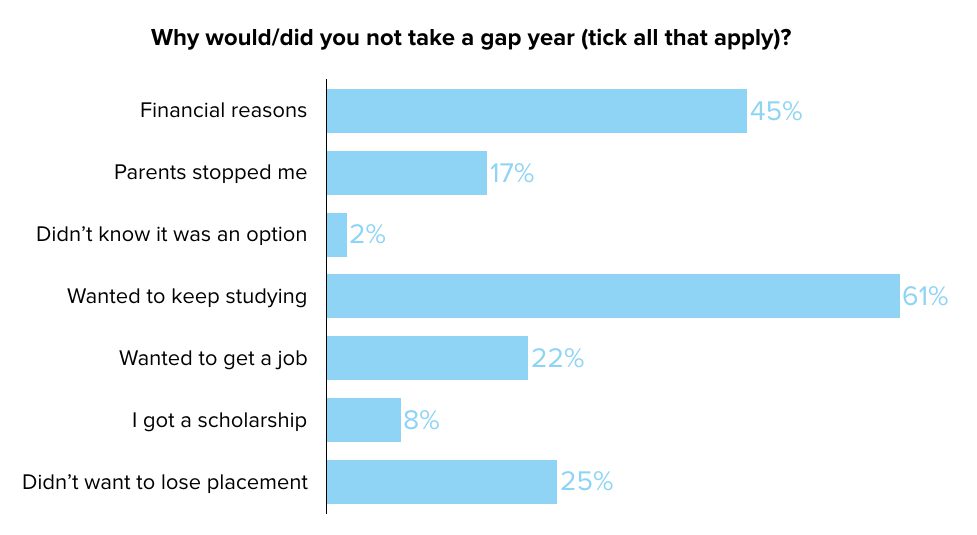 UTS lecturer Jenna Price in a comment piece on
gap years
for the Sydney Morning Herald last year wrote that extensive academic research shows those who take a gap year do better at university.
"They also have the resilience born from dealing with the travel disasters that happen when Mum and Dad can't rescue you any more," she wrote.
"School might have prepared students intellectually for a tertiary education, but there is lots school can't prepare you for – and that's how to deal with real people in the real world."
She finished saying, "And if you want my advice, definitely take a gap year. Not just to sit in your bedroom with Netflix but to take risks, earn some money, ignore your parents. Live a little."
While a gap year isn't for everyone, we agree that a young person only stands to gain from taking one.
Grab a free copy of our After The ATAR reports for more unique data and insights about Gen Z.