Email marketing has long been lauded as one of the most reliable components of an effective digital marketing strategy – and for good reason. This practice involves companies sending informational and promotional material to their database of email contacts, for example weekly newsletters, special offers, announcements, and event invitations. Whilst not a particularly glamourous or highly visible form of advertising, its effectiveness lies in its simplicity and ability to connect directly with past and potential customers. In fact, email marketing has been shown to generate $44 for every $1 spent in terms of ROI. Here's why.
1. It's a simple, low-cost method of marketing
There are over 4 billion active email accounts worldwide, with the majority of users admitting to checking their emails first thing as soon as they wake up. Email marketing allows brands to land directly on their computer and mobile phone screens without having to spend budget to advertise on digital platforms like Facebook or Google Ads, whilst also eliminating things like printing costs associated with more traditional forms of direct marketing.
Businesses that use email also avoid the complex task of navigating constantly-changing algorithms that dictate what content gets prioritised on social networks such as Facebook and Instagram. Plus, instead of testing different audiences and targeting characteristics, marketers simply upload their list of contacts to have complete control over who sees their messaging.
2. It can drive a range of goals
Despite its simplicity, email marketing is a preferred form of communication for many brands due to its versatility in facilitating a number of different goals and conversions across a wide range of business types. Like with all publications, one of our major considerations at Year13 is to increase traffic, and this is easily driven through email campaigns that round up our highest quality content. Similarly, retail companies can use email campaigns to drive purchases by linking to popular products.
As for the youth market, education providers can use newsletters to maintain communication with students and keep them up to date with news and events around campus. There's also huge commercial benefit by using email campaigns as a method of capturing and nurturing leads for potential enrolments. Employers and employment agencies can work similarly, emailing their database with information about new roles and facilitating their progress across the user journey.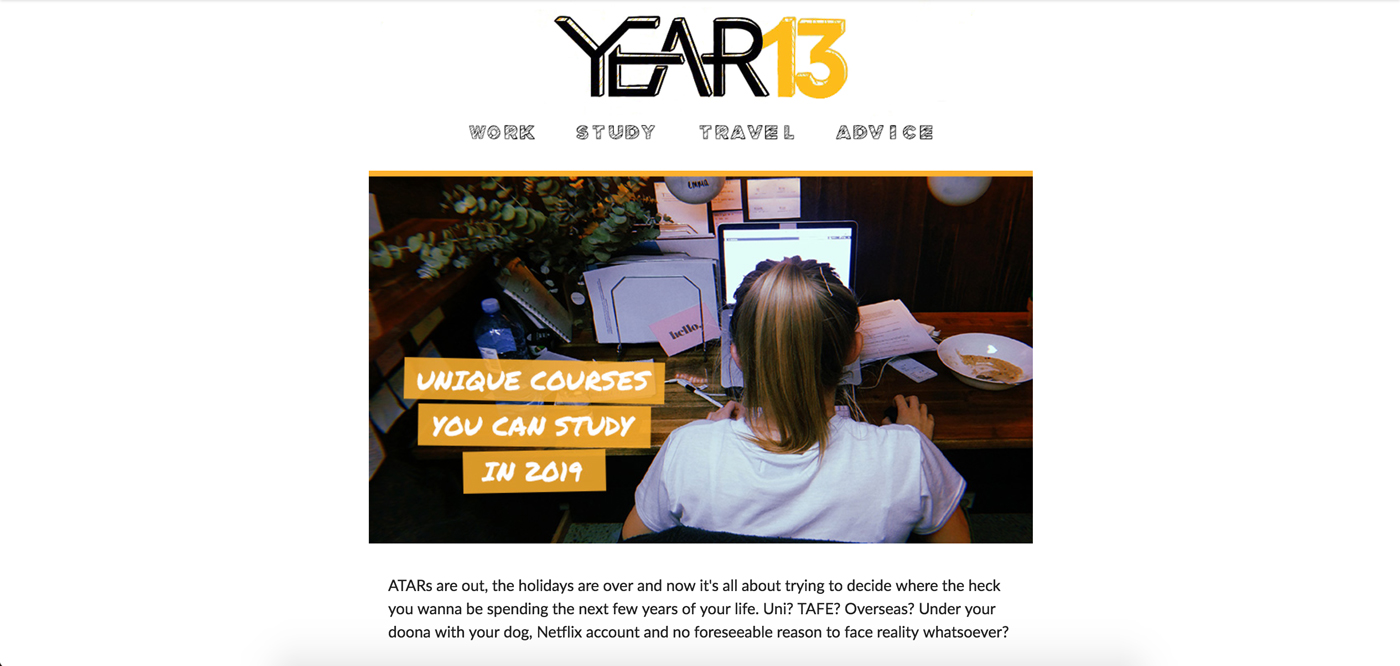 3. You're interacting with an engaged audience
Email lists are built by importing previous customers' contact details, capturing new email addresses by offering incentives and services in return, or a combination of both. This means your database is full of people that are already familiar with your brand and have engaged with your marketing before. Therefore, instead of focusing your efforts on getting their attention in the first place, you can use email campaigns to more easily drive high value conversions.
Get in contact with our team to find out how we can build a highly engaged database of leads for your business.
4. There are a range of tools to help you optimise
Sites like Mailchimp, Constant Contact, and Campaign Monitor make it extremely easy for brands to build email campaigns and optimise for greater engagement. Many of these sites have free email templates or ways for you to create your own templates so that your emails are engaging and visually appealing.
Personalisation these days goes beyond modifying emails to include the recipients name in the subject header, though this is proven to be effective in its own right. One simple yet effective tool is list segmenting, which means separating your list based on things like location, demographics, past activity, or customer data. This allows marketers to send different content to different sections of their audience, maintaining relevancy across a potentially broad spectrum of customers or clients.
These sites will also have automation tools that allow businesses to smooth the user journey at little to no effort on their behalf. For example, students who have expressed interest in a specific university may receive an automated email notifying them of the enrolment period finishing soon with a CTA to finish their application. Similarly, employment sites can set up an automated email a week after somebody has started the registration process, prompting them with tips on how to complete the process.
5. You can use stats and insights to guide you
These email marketing platforms also provide detailed statistics on the engagement of your emails and these can be used to improve future efforts. They record the overall open rate of an email, as well as the click-through rate of specific links within the campaign. A skilled marketer will be able to identify the common attributes of high performing campaigns and replicate this moving forward.
The level of insight these platforms provide extends to specific user data – that is, marketers can see if a contact has been engaging more or less with their marketing compared to other people in their database. This allows further list segmenting and can mean you send heavy CTAs to contacts you know engage heavily with your brand.
Download our Media Kit to find out how we can help you achieve your marketing goals, including building an email database of potential leads for education or employment.