We know you've been waiting for this.
So we asked young people to choose up to 3 answers for what they thought the purpose of school was, and…
Drumroll, please.
There was no one standout answer. 
Sorry.
But while we might not have been able to find a consensus among young people, some of the data we obtained in our After the ATAR III report is mightily insightful.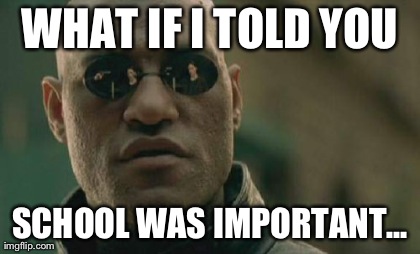 For example, almost half (46%) of students we surveyed said they felt the purpose of school was to gain knowledge and skills, which tells us Gen Zs value learning.
Forty-four percent said they felt the point of school was to prepare for their post-school education while 18% said they felt the purpose of going to school was to get a job, which tells us Gen Zs value planning their future.
On the other hand, almost one in three said they felt going to school was to develop life skills (30%), while 29% said it felt important for developing social skills, and 27% said they felt the point of school was to find their passion.
This tells us Gen Zs care about soft skills – almost as much as hard skills.
Meanwhile only a quarter (25%) felt that passing/graduating was the point of going to school, which tells us most Gen Zs want more than just a high school certificate.
a 21-year-old female from NSW told us what school meant to her which sums up a lot of the top responses in the survey.
"It was great environment to allow me to gain fundamental insight to who I was as a person. What matters to me, the hobbies and strengths I have," she said.
"I think high school is incredibly important point in life. It genuinely has the ability to cultivate passions. The extracurricular activities I got to participate in, set up passions for life.
"For instance, I had the opportunity to travel with our school band across states all the way to Melbourne to perform in a competition. My sister and I both had a crack at debating and it gave us the skills to talk confidently in many situations.
"Going on eco trips just made me appreciate the nature around us and reinforced the issue of climate change. Our teachers put out announcements for ADFA tests recruiting women. I was encouraged by even the principal and had a crack at it and it's genuinely on my goals/bucket list to achieve one day."