Gen Z are always connected to multiple devices, constantly shuffling between apps and many just honestly don't have the attention span to read through your extensive sales pitch.
For businesses they're set to be the largest generation of consumers by 2020 with $143 billion in spending power – and that's not counting the influence they have over their parents' purchases.
And for many educators, employers and government bodies, the youth market makes up the entirety of who they need to attract for courses, apprenticeships, cadetships, careers and other initiatives.
At Year13, the company behind YouthSense, we're in the business of helping young people find the post-school pathway that's right for them. Because of that we've done extensive research into what really makes Gen Z tick. These insights dictate everything we do at Year13 and it's helped us grow into Australia's leading career and life advice platform for Gen Z.
Here are some stats that every marketer should know if they want to successfully engage with the youth market.
1. 73% of Gen Z think older generations do not communicate with them effectively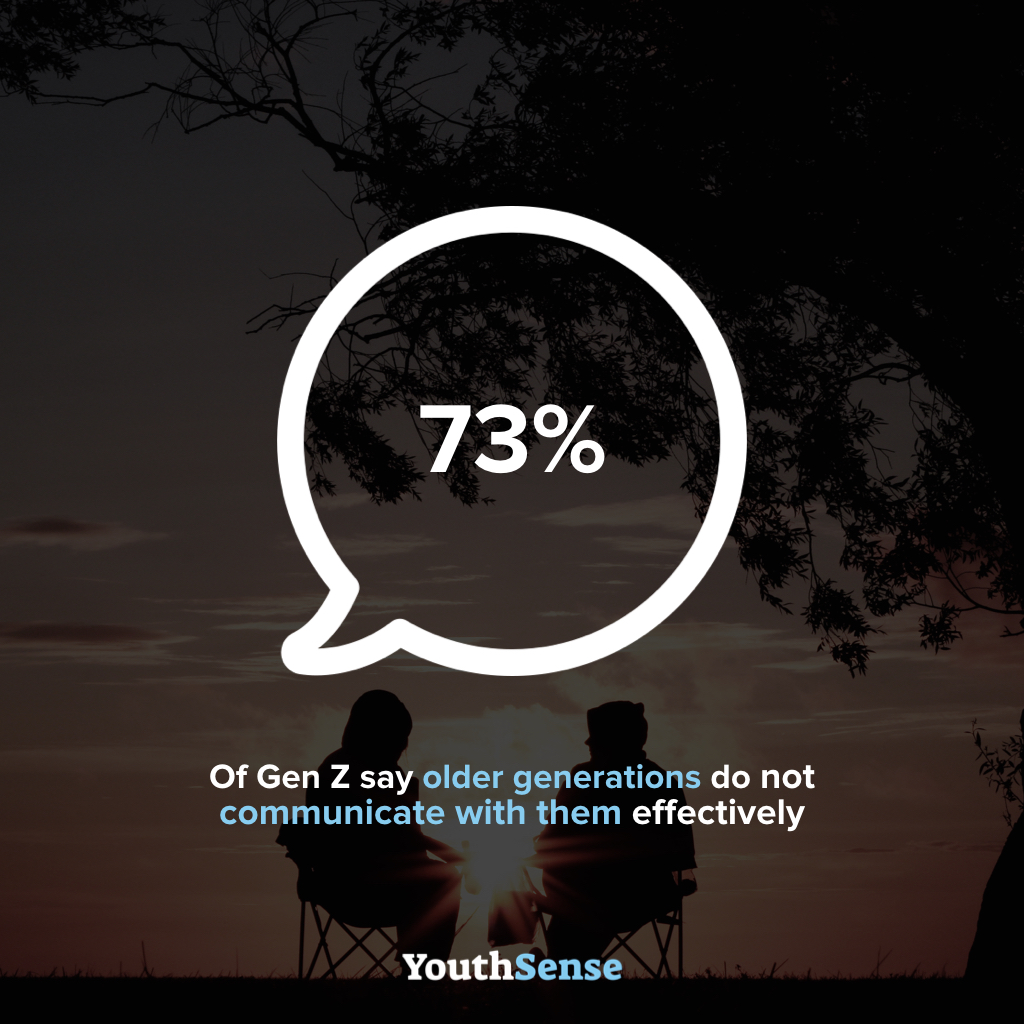 Nobody wants to admit they might be out of touch, but the reality is everything from fashion to slang moves quickly and these days, rapidly developing technology is only widening the generational gap.
We get past this through our youthful staff and feedback from our young audience. Of course, our top-level strategy is designed by experienced marketers, but it is driven through the insights we gather in our research on Gen Z.
One of our survey respondents, a 17-year-old male from South Australia, said that marketing should ideally "appeal to a sense of humanity."
"Adverts tend to depict this hyper realistic society that is so detached from their viewership that it makes it hard to trust," he said.
"That's what makes Year13 a useful site, it doesn't subscribe to conventional marketing and is clearly aware of its target audience."
Entrusting our young staff with all aspects of content creation has been integral to our success with the youth market. It's also a key feature of our Youth Engagement Summit, where they'll be explaining the key ingredients to successful youth digital marketing.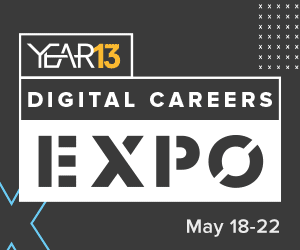 2. 84% don't like hearing ads on music streaming services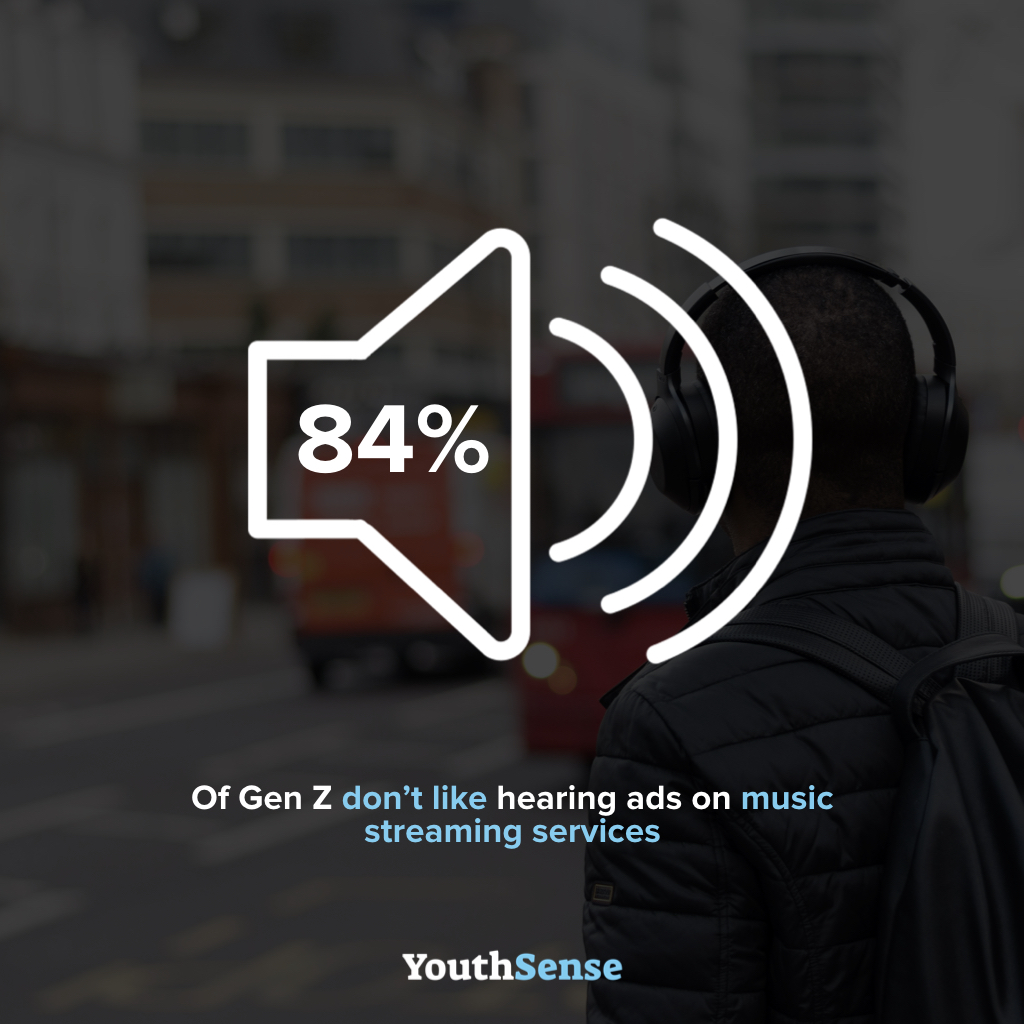 Our research has found 85% of Gen Z stream music on services like Spotify everyday. We also found if they're feeling stressed, anxious or frustrated that streaming music is the most popular online activity they do to relax. It's also their most trusted kind of online service, with 70% of Gen Z saying they trust them.
However, despite this high use and trust we found the majority of Gen Zs dislike streaming music ads. One survey respondent, a 24-year-old male from NSW, sums it up.
"I think streaming with ads is a big disturbance; it doesn't make me want to buy anything if I'm be disrupted," he said.
"I can live with sponsored ads on Instagram because I can swipe past it if it doesn't relate to me. That's the idea, it's a quick glance of what it's selling."
It's clear that online media consumption habits don't simply dictate the most effective avenues for marketing. Pay attention to the context of your ad and the emotion it elicits, not just on its own merit but also with regard to the time and place it's received. Just because your ad reaches a lot of people doesn't mean it's well received.
3. 41% of Gen Z use Adblockers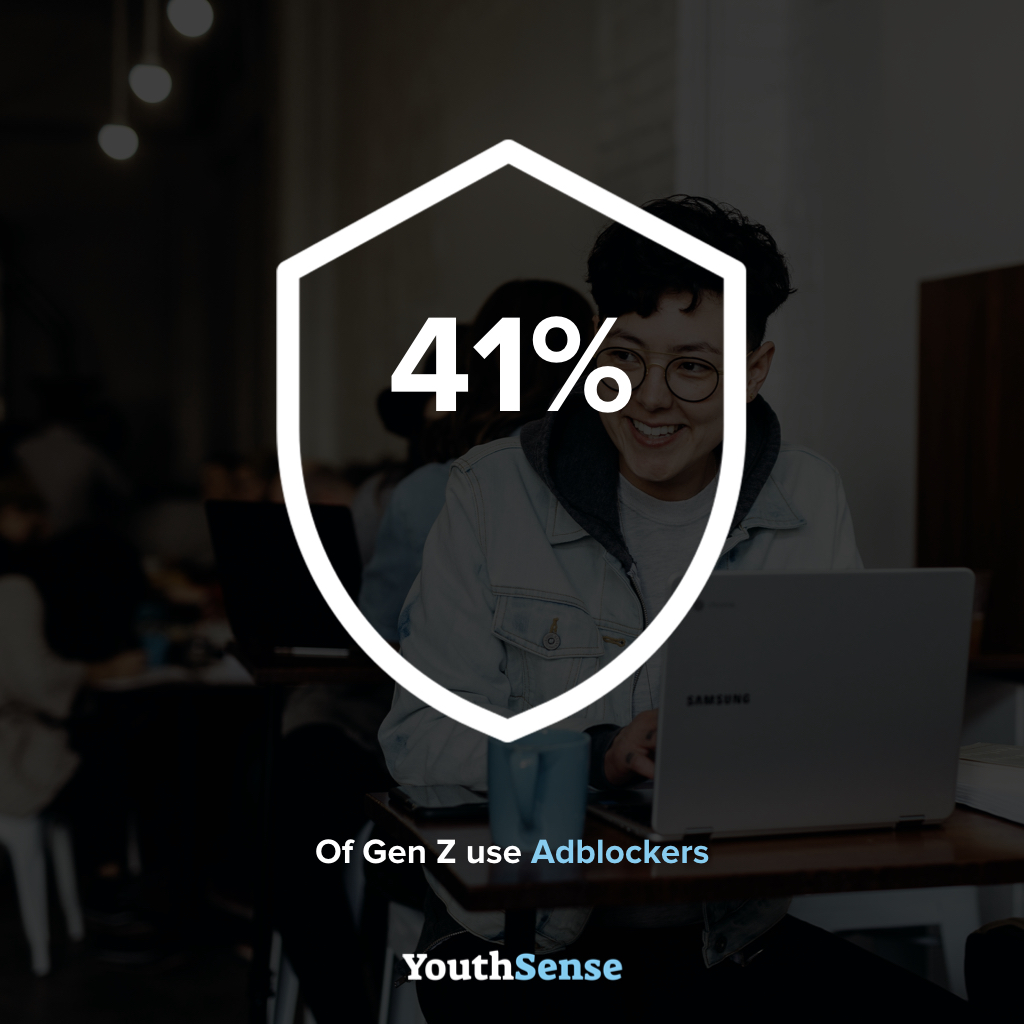 Adblockers are the bane of the marketer's existence, but we can hardly blame anyone that uses one when we probably do at home too.
A 17-year-old female from Victoria suggests that this drive to block ads is merely a response to marketing that's crossed the line, but offers ways organisations can slip past this.
"As there is an increase in users downloading Adblocker resulting from such intrusive advertising, brands can be deemed more trustworthy if they develop trust between the consumer and the brand name," she said.
"By showing previous customer experiences with products, the consumer is able to decide the reliability of that given information."
4. 79% of young people prefer when brands sponsor or create their own online content over traditional advertising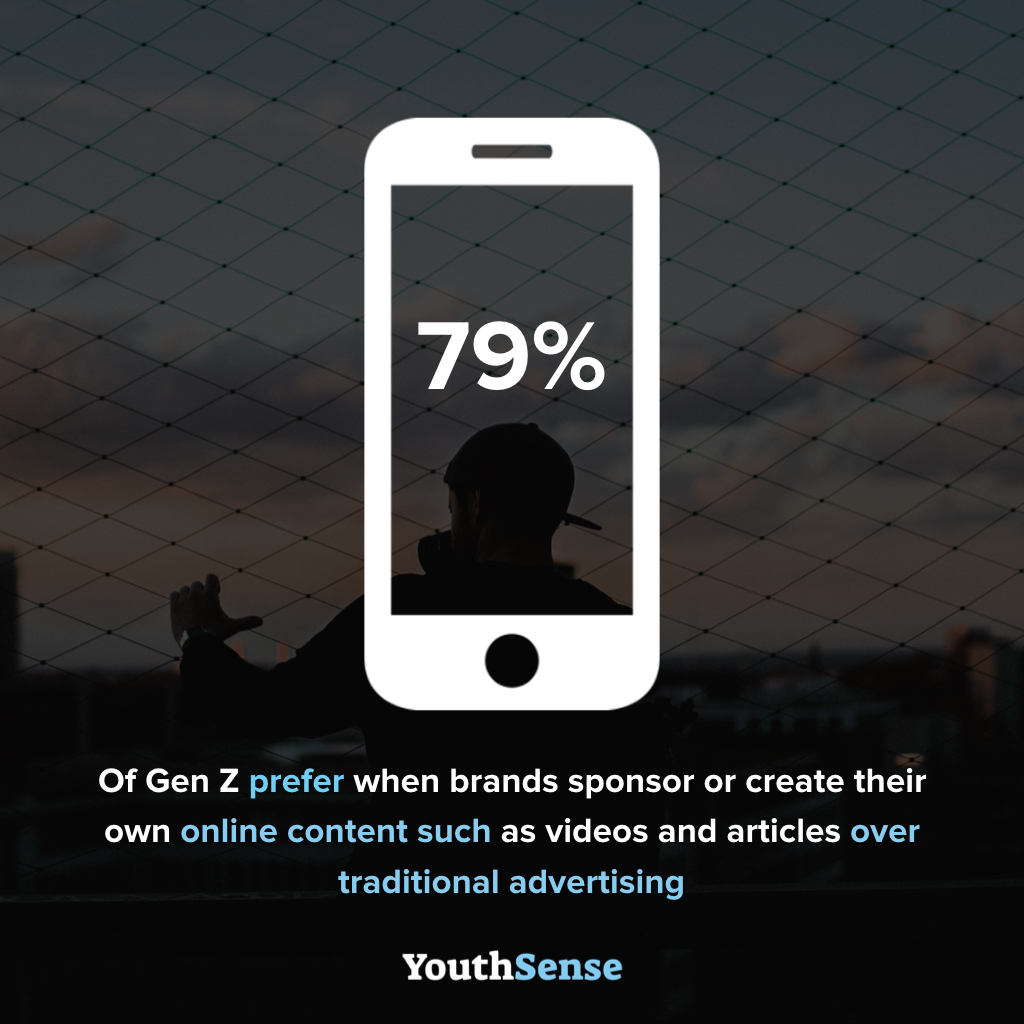 As mentioned above, display ads are only being served to just over half of Gen Z and in-stream ads are a big no. As well we've found thanks to YouTube and Netflix, Gen Z hardly watch TV anymore so marketers need to think outside of the box. The best way around these problems is to package your marketing into content that's actually useful to the viewer.
"Rather than use in-your-face, unskippable or obtrusive ads, I suggest creating content that is more emotionally engaging, similar to a miniature story," said one survey respondent, a 19-year-old female from New South Wales.
"Or…create content that people will actually stick around to watch and enjoy – and even have relatively good brand recall for after!"
"If you make consumers think that you care about them more, or are simply there to entertain them as they go about their daily habits online, they won't be as skeptical that you're trying to push a product or service onto them."
Of course, this is easier said than done and this kind of marketing can fall flat if it hasn't been thought through. To learn about the creative marketing solutions and branded content strategies employed by Year13, be sure to attend our Youth Engagement Summit 2020.

5. 69% check their phone first thing in the morning and last thing at night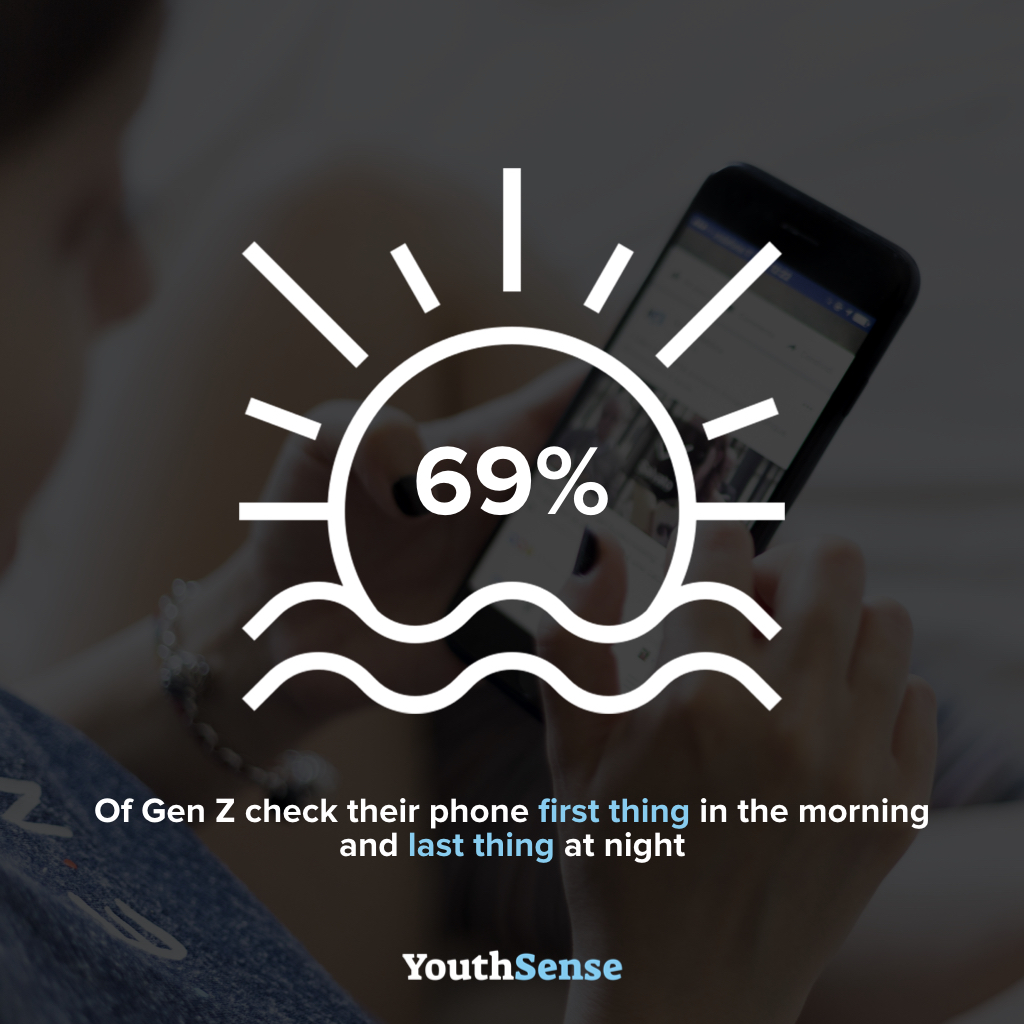 The majority of Gen Zs are going to sleep and waking up to their personal black mirrors.
On one hand it shows how connected this generation is and open to digital communication. But at the same time it's hard to ignore the possible effects this kind of technological ubiquity has on mental health.
So as marketers we have a responsibility to gauge what we're throwing to the world – especially at these dawn and twilight hours. These young people are plugged into what we're saying, but they are people first and foremost. Make sure you're using this opportunity to motivate, inspire or educate them – or even validate their negative feelings.
6. 48% said a social media influencer had influenced them to purchase something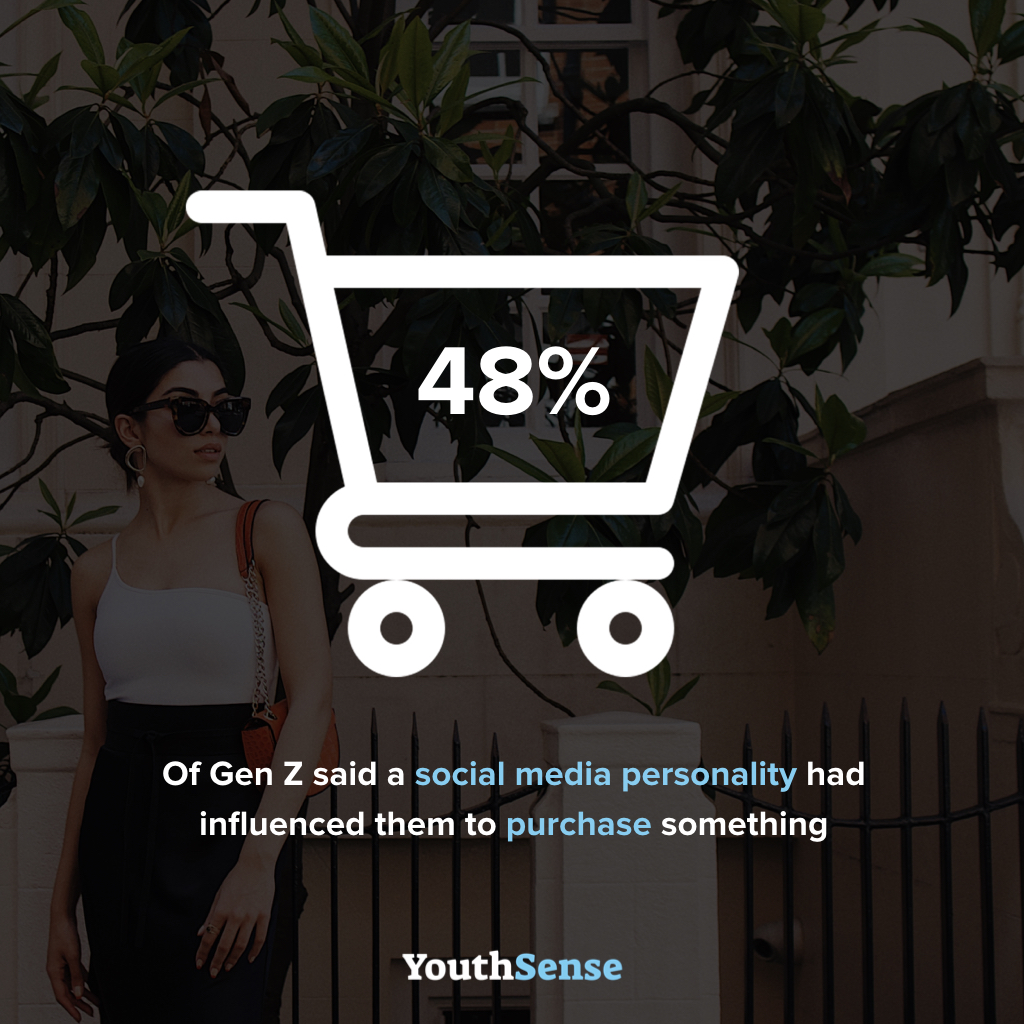 When we asked Gen Z what brands could do to establish more trust with them online, many respondents mentioned influencer marketing. Broken down, we found that 53% of females had made a purchase because of an online influencer compared to 43% of males.
There's huge opportunity for brands to leverage the trust that's already been built between these influencers and the youth market – but only if the partnership is genuine.
"Sometimes I actually love when my favourite influencers on YouTube or Instagram promote brands and products because I trust their opinion and I learn about products and companies I've never heard of before," said one respondent, an 18-year-old female from NSW.
"Although I can tell which influencers are genuine and love the product/company and when others are not and they are just in it for the money."