Australian Gen Zs overwhelmingly support businesses leading the charge on social and environmental issues.
At a time of rising contention surrounding corporate activism after major companies like Gillette and Nike have taken public stances on issues, 84% of Gen Zs say their social and environmental concerns impact their spending and 88% are more likely to buy from a business if they help with the causes they care about, according to a new Year13 and YouthSense report.
Gen Z & Corporate Activism: How Gen Z's Social & Environmental Concerns Drive Their Spending & Relationships With Business has found through a survey of over 1000 15-24-year-olds nationwide the top social and environmental issues businesses should approach and what actions they should take if they want to win the loyalty and trust of increasingly environmentally and socially-conscious Gen Zs.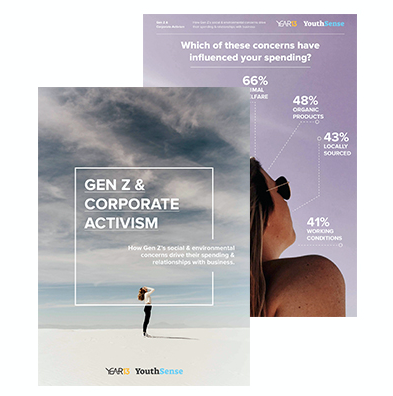 The report outlines the top 20 social and environmental issues Australian Gen Zs care about. Climate change, plastic pollution, diversity, fast fashion, sustainability, worker exploitation and animal welfare are some of the key areas the report looks at. Beyond identifying their top concerns, the report also identifies the specific actions they want businesses to take to help solve them.
The results of the study have also revealed the top factors which affect Gen Z's spending when they are making purchases in store and online. These findings will help inform businesses how elements of their product or service, from their packaging to their labour practices, make it a winner or a loser in the eyes of young Australians.
Corporate social responsibility is a term increasingly on young people's radar, with 93% saying they want businesses to display it. They also want businesses to be consistent in their corporate social responsibility. The report has found Coles and Woolworths plastic toy promotions, which followed soon after their plastic bag phaseouts, have made 55% of Gen Zs less likely to shop at the two supermarkets due to their major concerns surrounding plastic waste.
Gen Z & Corporate Activism contains first-hand accounts from young Australians explaining why their ethical concerns matter when it comes to their buying decisions and their relationships with business. As the world moves into a new decade of heightened consumer awareness, of which Gen Z is leading the charge, the report will help guide businesses as to how they should best tap into these social and environmental concerns for the benefit of their business, society and the environment.
Grab your free copy of our Gen Z & Corporate Activism report for more data and unique insights about Gen Z.