Earlier this month the National Centre for Vocational Education Research (NCVER) released their latest quarterly report, highlighting an alarming decline in apprenticeship completions. The data tracks figures over the last four years and also reports a decrease in the number of apprentices and trainees currently in-training, as well as the number of commencements over this time.
In 2014 there were 163,160 apprenticeship and traineeship completions, but by 2018 this figure dropped by 46.8% to just 86,880.
The number of apprentices and trainees in-training once stood at 336,595; in 2018 it's just 267,385 – a 20.6% decrease.
As for commencements, this figure dropped from 192,680 to 158,640 which marks a 17.7% decline in the past four years.
The report represents an ongoing concern for educators and employers across the country as they aim to address the National Skills Shortage and connect youth with the appropriate education pathways to achieve this. We surveyed our users at Year13 and our research suggests that young people do not have access to adequate information about these pathways from their major career influencers (teachers, parents and career advisors) thus requiring unique engagement strategies to impart this knowledge.
In fact, our data shows that only 23% of young people view apprenticeships as an education pathway, instead viewing them primarily as an employment pathway or not understanding them enough to say. When asked how well they understood different post-school options, only 16% had a good to strong understanding of apprenticeships and just 14% said the same for traineeships; comparatively, 49% had a good to strong understanding of university.
This lack of understanding has a clear link to the information they're receiving at school and at home. More than half our survey respondents (52%) said they wanted more unbiased career advice in high school, and only 16% said their parents had a well-rounded understanding of VET.
Interestingly, we found that Year 10 was a key time for educating young people about their post-school options, as it's after this point that their understanding splits off in favour of university. In Year 10 the percentage of students with a good to strong understanding of university was 25% and for apprenticeships it was relatively close at 21%. However, by Year 12 this figure grows to 37% for university whilst dropping down to 12% for apprenticeships.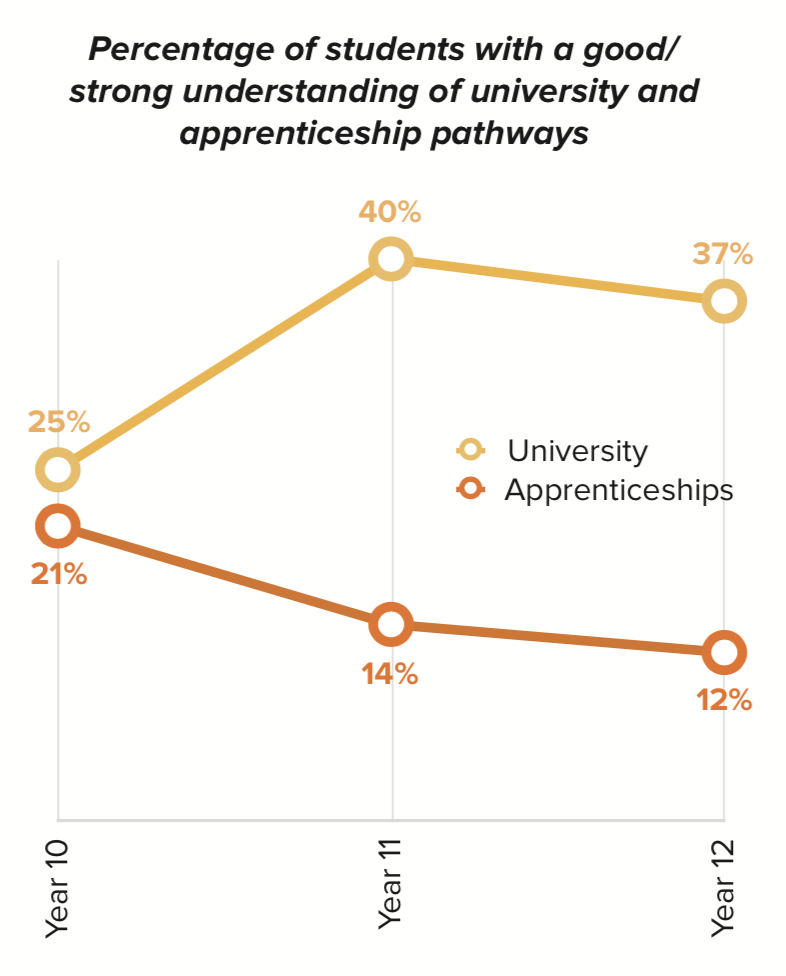 It's extremely important that teachers and career advisors continue to provide unbiased information to their students during this time. These findings have led us to develop The Truth Project, a series of school-based workshops targeted at students in Year 10, 11 and 12. Through this program we aim to empower young people to make positive decisions about their future and equip them with the skills to follow through on them.
However, we've also found that young people don't just look to these traditional holders of knowledge when making these post-school decisions; 42.7% also get their most trustworthy advice from web searches. Therefore, it's necessary for educators and employers to have a strong online presence and to understand the value of content marketing in getting their message across.
Grab a copy of our After The ATAR reports and find out everything you need to know about Gen Z.