Understanding how someone can get rich off YouTube can seem like a total mystery. 
I mean, we know it has something to do with views, right? 
With YouTube being Gen Z's second most used social network, used by 76% of them regularly according to the findings in our What Gen Z Actually Do Online report, it's easy to see why young YouTube creators are racking up massive amounts of views with their young audiences.
YouTube has well and truly killed the TV star with their generation. But that's probably not news to you. What might be news to you though is how exactly Gen Zs are monetising their YouTube popularity to bring in an income which might even outstrip their parents.
So how exactly does it work?
YouTube employs a system called AdSense that serves ads before, during, and after the viewer watches a video on YouTube. It's significantly more lucrative than the ad money on TikTok or Instagram which can pay out a pittance in comparison to views, and it's why YouTube is the only real show in town if you want to make a full time income off your video content.
How YouTube creators make money – and how much – depends on a couple of factors: 
The number of subscribers
How many views a video gets
"As an example, let's say there's a YouTube creator with two million subscribers who averages one million views per video," explains Hover in yes, a YouTube video. 
"This hypothetical channel could expect to earn about $4k in AdSense revenue per million views, based on a typical revenue 'per mil rate' (which we'll call or RMP from now on) of $4: meaning they earn $4 per thousand views."
Not bad, eh?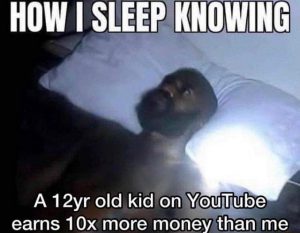 Before you get too excited, it's a little more complicated than that. There's actually a 'wild inconsistency' on AdSense RPMs from creator to creator.
"Adsense's system's selling point for advertisers is its ability to target ads to be served to audiences with particular geographies, demographics, or interests," Hover continues.
"So, creator income all has to do with how valuable their audience is to advertisers."
Just how 'valuable' a piece of content is in terms of the AdSense system doesn't just depend on the quality, intelligence or creative aspect of the content – but the industry it's involved with, where it's created, and the language the content is created in.
For example, advertisers only pay one-fifth of the average to reach customers in Brazil, because the spending power is lower.
"So if our hypothetical channel was produced in Portuguese, and therefore had a big chunk of audience in Brazil, it would likely earn a lower than average RMP with Adsense," he said.
Translation: instead of earning $4k per million views, the creator might only earn $1.2k per million.
Oof.
On the flip side, advertisers value particular interests, industries, and locations more highly.
"Creators making videos about business or finance tend to have quite high RPMs because there are loads of investment platforms, banks, crypto companies and others competing to get those viable ad spots seen by an older, wealthier, financially-savvy audience," Hover explained.
"So if our hypothetical creator made a US-based, English language personal finance channel, they might earn 8k on Adsense."
Sounds a bit frustrating for creators specialising in other industries, right? 
Not exactly. There are still plenty of opportunities for YouTubers – particularly Gen Zs, who often develop cult followings – to dramatically grow the value and income of their views.
The most common and effective way is through sponsorship. 
"Early into the development of the creator economy, ad agencies noticed something: the most effective means of selling something off of the attention of a creator's work is actually through the creator," Hover continues.
For example, "between a 45-second externally produced AdSense ad before the video versus a 45-second sponsorship voiced by the creator at the end – the latter overwhelmingly leads to more signups."
These often come in the form of shout outs for online games, VPN companies, meal delivery services or even online mental health therapy services. 
Through sheer weight of viewership numbers these sponsorships can be very lucrative, but not all young people appreciate them. As part of our What Gen Z Actually Do Online report research a 15-year-old from Queensland told us how young people today are hyper aware of marketing tactics like these.
"For example, when I am watching a video that is very obviously branded which I am aware is required for full disclosure, it makes me less likely to buy a product," they said. 
"In contrast, if I watch a video of someone recommending a product that is not obviously branded, I will be more likely to consider (buying the product)."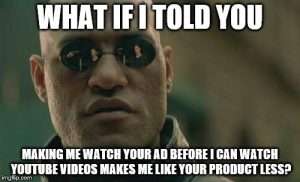 But for everyone who tunes out, there's usually someone who takes these YouTube creators up on their offer. So how do these YouTube sponsorships work?
In addition to their 45-second sponsorship at the beginning, middle or end of their video, YouTube creators pop a dedicated link – which includes a discount code – in the video's description.
This enables the sponsoring businesses to:
Track how many people click through
How many people sign up
And how long those sign-ups stick around as customers 
(Source: How the YouTube Creator Economy Works)
"This individualised data allows for a level or optimisation far above what's possible with TV, radio, or billboards and provides a simple mechanism to monitor whether the creator's campaign is actually providing a return on investment."
Put simply, the more a creator can get a user to click through, sign people up using their special code and keep them signed up for longer, the more money they can make from their videos. If someone signs up for a meal delivery service, and stays signed up, this can be attributed directly to the YouTube creator.
So as we can see, it's not just high views, but what topic you're covering, where in the world you're covering it, in what language and ultimately how engaged your audience is with you and what you're sponsoring.
Nifty, eh?
Sign us up!