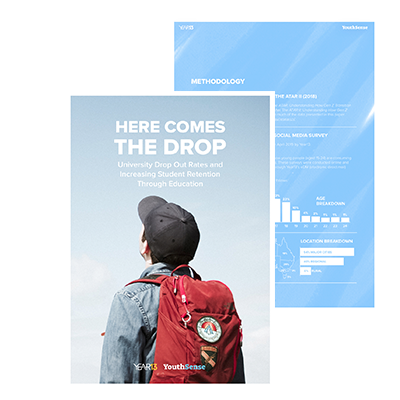 70% of Australian school students intend to go to university, but by the end of their first year 1 in 5 will have dropped out.
If 20% of any other business's customers were throwing away what they bought each year then you'd have to ask some questions. Is it the fault of universities? Is it the fault of schools? Is it the fault of parents? Is it the fault of students themselves? Or is it some mix of them all?
Our Here Comes The Drop report explores this issue and helps universities create a better strategy to reduce student dropout rates. The data for this report stems from four national surveys we conducted between 2017-19. We received over 7,000 responses across all surveys from Gen Z youth aged 15-24.
What you'll learn
The main reasons students consider dropping out of university
The factors that influence young people's post-school decision making
How to optimise your communications strategy to retain students, including when and where is best to market to them